General information
The access to the STM infrastructure is granted primarily in conjunction with beamtime at MAX IV Laboratory. It is important that the users mention STM (or other Support Microscopy labs research infrastructure) in DUO when submitting their proposals. The next proposal call opens 2023-09-05, will close on 2023-09-26 and covers beamtimes for the period Februari – August 2023 (See: https://www.maxiv.lu.se/users/proposal-calls/)
Most of the beamlines at MAX IV Laboratory are oversubscribed, so proposals should be compelling and carefully written in order to be chosen by the advisory committee. If access to the scanning tunneling microscope or vacuum suitcase is desired, and, in particular, the help of an operator is intended, the users must include a brief description of a planned microscopy experiment. Users are always welcome to send the "STM-part" of the proposal to the STM staff if feedback is wanted.
We stick to a standard beamtime allocation at 1.5 GeV ring, where beamtime begins 0900 Wednesday and ends 0900 the following Monday. When writing proposals, request and plan the following 4 hours/shift, 6 shifts/day, 5 days.
As of Spring'23 run the research infrastructure of Microscopy labs at MAX IV is available via self-service booking system. See below the guide on how to book the equipment.
Accessing MAX IV's web services
Due to the security reasons and as a temporary measure, the web services hosted at .maxiv.lu.se are only available from MAX IV's internal network. For accessing the resources from outside MAX IV, please use VPN to MAX IV network with your DUO user credentials. You can read about setting up VPN in this comprehensive guide. If you do not have a Digital User Office (DUO) account OR experience problems with VPN connection, please, get in touch with MAX IV User Office, so that they could help you!
Placing a booking
Once you are in the White or Blue network of MAX IV, go to lab-booking.maxiv.lu.se

You shall be redirected to the logon page, where you can log on the lab booking tool with your DUO credentials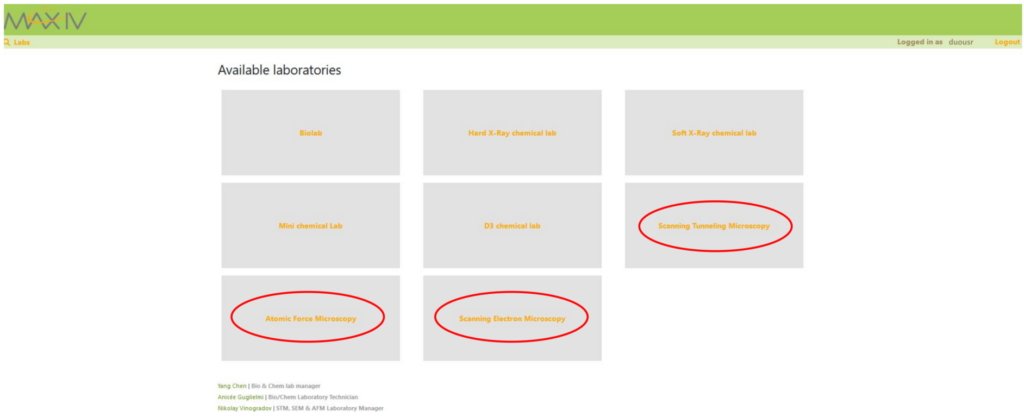 If logon is successful, you shall see the list of available labs. For information on booking Bio- and Chemistry labs, please, refer to respective pages.

Selecting one of the labs will bring you to the calendar view, showing the bookable equipment and its availability dates, as well as the dates when it is booked. Your bookings will be shown in green, placed by the others – in orange. Click on the day you want to start using the equipment, and a booking form shall open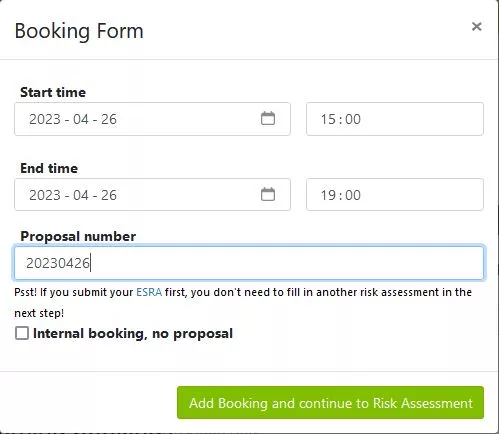 Fill in the start and end dates, and the proposal number. If you do not have a proposal number, please, contact the lab manager first to get one. A booking without proposal number will not be accepted.
If you have already submitted an experimental safety risk assessment form (ESRA) then your booking will be automatically approved. If you did not submit the ESRA form yet, or do not have an accepted proposal, upon clicking on "Add booking…" green button you shall be brought to the risk assessment form similar to ESRA, where you must fill in the experiment title, chemicals and materials as well as describe briefly the experimental workflow and perform a simplified risk assessment as per guide "Details risk severities…" in Calendar view.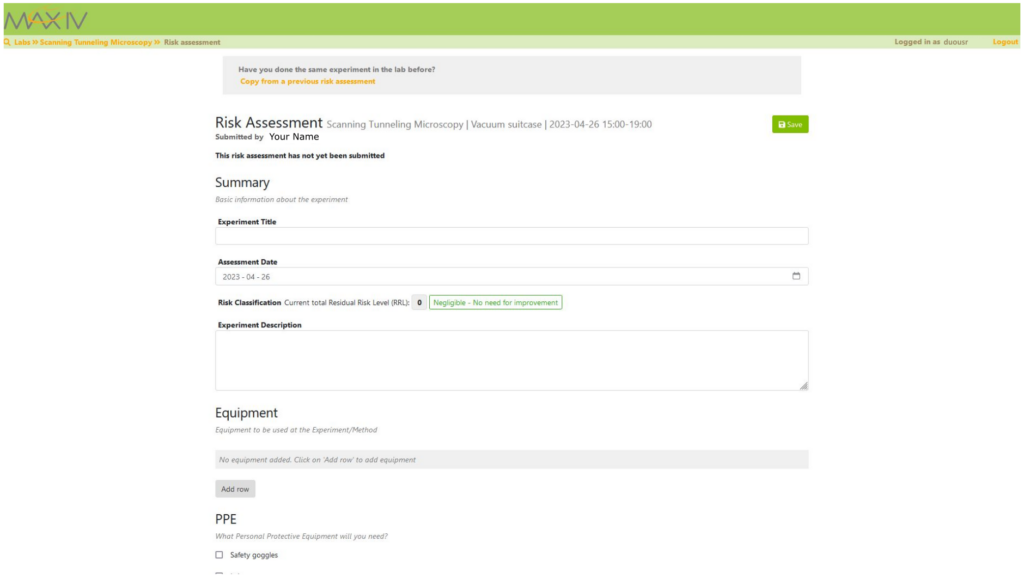 Done! You shall soon receive a confirmation of the booking to your DUO-associated email. As a last step your booking shall be reviewed by the Microscopy labs staff and you shall be contacted in case of unexpected schedule conflicts or other issues.
Good practices for placing equipment bookings
The list below concerns booking of any equipment/instrument in Microscopy labs and applies also for AFM and SEM!
Do not book the equipment for more than 10 calendar days in a row, unless timely agreed upon with the lab manager
Do not place bookings for more than two months ahead

Should you have a scheduled experiment at MAX IV in more than two months ahead and you want to secure the Microscopy labs infrastructure for your experiment, please contact the lab manager as soon as you know the dates of your experiment from the beamline scientist or user office

Please, do not ignore the risk assessment form and fill it in properly, otherwise your booking may be deleted upon risk assessment review by the lab staff
Unless you are MAX IV staff, DO NOT tick "internal booking, no proposal" checkbox. Such bookings from external users will be deleted without the review.
Consider your schedule. If the booking covers the weekend, it is meant that the equipment will be used over the weekend, i.e. outside of nominal support working hours.
Should you foresee that your experiment requires the operator's help, please, get in touch with the lab manager soonest possible in order to arrange support for your measurements in the best possible way.
Remote access and operator's help
As of today there is no remote access to the STM instrument that can be granted to general users.
The users with experience in STM may be granted the permission to run the instrument themselves after an introduction. Users who would require operator's help in order to run their STM experiments must get in touch with lab manager well in advance to discuss and agree upon the workflow.
Data policy
The STM control PC is not connected to any network, and due to the security reasons it is not allowed to bring in and insert user's own memory sticks for the data transfer. Once your experiment is finished, your data shall be put in the cloud storage of Lunds University (as of today provided by Box) and yo ushall receive a link for copying the data. Please, note that the data shall be stored and available for download for a limited time, typically 6 months. Therefore, it is important that you download and archive your data.