The PRISMAS PhD programme offers challenging and exciting research projects within the following areas
healthy planet
healthy people
clean energy
sustainable technologies
accelerator science
cultural and geological heritage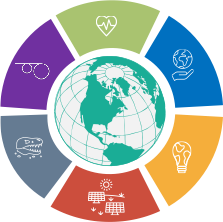 Download here our infosheet to get an overview of the PRISMAS programme and the exciting positions we are currently offering.
PRISMAS RESEARCH AREAS AND PROJECTS
HEALTHY PLANET
Project title:

 

HYDROTRANS – Migration of geologically stored hydrogen in bedrock

 

PRISMAS Research Area:

 

Healthy Planet

 

Supervisor:

 

Prof. Mikael Sjödahl

 

Hosting University:

 

Link to position:

Luleå University of Technology

 
Despite its upcoming importance as storage reservoirs in the future Hydrogen society, the migration of H2 through the Earth's crust is poorly understood and more detailed understanding of transport and interaction mechanisms is required to meet safety requirements concerning geological storage of hydrogen in populated areas. Simulations and permeability measurements need experimental validation to perform well and the current approach is to utilize X-ray microtomography scans for detailed mapping of the microstructure and subsequently couple the structure with flow simulations. Lab-based X-ray microtomography (Zeiss Xradia 620 Versa) will be used as a step-in system and to prepare for measurements at MAX IV. By the end of this project we expect to have developed a test environment for detailed studies of gas permeability. Eventually, experiments will be performed at ESS where the combination of X-rays and neutrons promises good contrast of both H2 and the matrix.  
Project title:
Spectroscopic and geometric characterization of high-valent dinuclear metalloprotein intermediates
PRISMAS Research Area:
Healthy People, Healthy Planet
Supervisor:
Prof. Martin Högbom
Partner University:

Link to position:

Stockholm University
If we could mimic nature's use of metals for harvesting sunlight, energy conversion, and chemical synthesis it would eliminate the need for fossil fuels and greatly increase the possibilities of green chemistry. These reactions are based on challenging redox reactions by high-valent metal clusters in proteins. To understand and mimic this chemistry it is of central importance to know the geometric and electronic structures of the metal core as well as the protein ligand environment for these reactive intermediates.
In this project we combine serial X-ray crystallography with X-ray spectroscopy (XAS/XES) on proteins in-solution and in-crystal to determine electronic and atomic structures of key intermediates in enzymes utilizing dinuclear metal sites for some of the most challenging catalysis in nature, for example methane monooxygenase and ribonucleotide reductase. The results will be of interest for both basic and applied science in health and biomimetic catalysis.
| | |
| --- | --- |
| Project title: | In situ SAXS and XANES studies to probe the structure and chemistry of nanocellulose based water treatment materials |
| PRISMAS Research Area: | Healthy Planet |
| Supervisor: | Prof. Aji P Mathew |
| Partner University: | Stockholm University |
Water treatment is an emerging application for nanocellulose, driven by its high surface area, versatile surface chemistry and nanostructured morphology. The current project will aim to answer different research questions related to structural and chemical aspects of nanocellulose based water treatment using Max IV facility.  We will focus on i) orientation and interfacial structure during 3D printing of nanocellulose hydrogel filters ii) chemical states during in situ synthesis of nanocellulose based hybrids and iii) structural changes in nanocellulose based hybrids during water treatment. Another important outcome of this project will be the establishment of long-term collaborative networks between SU, MAX IV, RISE, Alfa Laval AB, and the training of scientists in the collaborative environment.
Project title:
The role of fungal communities in controlling mobilization of organic carbon (OC) and iron (Fe) from forest soils
PRISMAS Research Area:
Healthy Planet
Supervisor:
Prof. Emma Kritzberg
Partner University:

Link to position:

Lund University
This project aims to synergize forestry management with sustainability. The goal is to understand how fungal communities influence mobilization of Fe and OC from forest soils. In the background are increases in export of Fe and OC to surface waters resulting in severe OC loss. Coniferous afforestation contributes to these trends, e.g. mobilization of Fe and OC is enhanced under mature spruce forests. This may link to the fungal community, where brown-rot fungi dominate wood decomposition in coniferous forests. Many brown-rot fungi secrete extracellular metabolites that reduce FeOOH, generating Fe2+, which then produce highly reactive hydroxyl radicals that drive decay of organic matter. We expect that differences in fungi-induced biogeochemistry impact which components of wood that are degraded and remain in the soil. Synchrotron-based imaging and spectroscopy of wood and soil solution will monitor the degree of morphological and chemical change during fungal ingrowth. By integrating experimental and observational efforts we can reveal which process/es underpin transformations and fluxes observed in the field.
HEALTHY PEOPLE
CLEAN ENERGY
SUSTAINABLE TECHNOLOGIES
Project title:
Misfit strain detection in precipitate hardening alloys by Bragg coherent diffraction imaging
PRISMAS Research Area:
Sustainable Technologies
Supervisor:
Assoc. Prof. Martin Fisk
Partner University:

Link to position:

Malmö University
The next generation polycrystalline nickel-base superalloys for application in highly demanding environments, such as aero-engines, or heat exchangers will not only reduce the fuel consumption but also the amount of NOx emission. One major problem is, however, that high-temperature resistance superalloys frequently end-up in a composition that are sensitive for crack formation. It may occur during heat treatments, or in the manufacturing process where intragranular γ'-precipitates formed. Initially these precipitates are fully coherent, or semi-coherent with the matrix of the alloy, which may result in misfit strains. And consequently, if the density of the nucleated precipitates is larger than the matrix phase, all individual grains are contracted, and severe strains in the grain boundaries appear. This phenomenon is known as Strain Age Cracking (SAC) for the industry.
Here, the proposed project aims to increase the understanding of SAC by in-situ measuring the strain field of individual γ'-precipitates embedded in a metallic γ-matrix by Bragg coherent diffraction imaging for various temperatures, precipitate sizes, and alloy compositions.
The experimental results are important, not only for understanding the role of misfit strains on precipitation but also for calibrating and validating numerical models acting on the same length scale, e.g., phase field crystals. These results, from the nanometer scale, will be used in a larger campaign where the aim is to understand the SAC phenomenon on several length scales, from the individual particles on the nanoscale up to the micrometer scale where the cracking takes place.
The main supervisor will be Associate Professor (docent) Martin Fisk, Materials science and applied mathematics, Malmö University.The project will jointly be with NanoMax.
| | |
| --- | --- |
| Project title: | Elucidating time-resolved formation and assembly of lignin nanoparticles in the presence of metal ions |
| PRISMAS Research Area: | Sustainable Technologies |
| Supervisor: | Assoc. Prof. Mika H. Sipponen |
| Partner University: | Stockholm University |
Trees grow to considerable heights owing to the presence of lignin that reinforces plant cell walls and provides the living plant with water transport and barrier properties.  Lignin nanoparticles (LNPs) form from amphiphilic lignin molecules with carboxylic acid and phenolic hydroxyl groups. These molecules can chelate and reduce metal ions, which is useful in various applications like water purification and ion exchange systems. However, it is unclear how multivalent metal ions dynamically interact with lignin and how this affects LNP aggregation and network structure formation. This project aims to study the impact of metal ions on LNP formation using time-resolved SAXS measurements in levitating drops and microfluidic channels at CoSAXS. By doing so, the project seeks to establish a mechanistic understanding and control over the formation of multifunctional lignin-metal hybrid particles and their utilization in bio-based composite materials.
Project title:
In situ X-ray spectroscopy to unravel electrochemical CO2 reduction mechanism to sustainable fuels and chemicals.
PRISMAS Research Area:
Sustainable Technologies
Supervisor:
Dr. Sergey Koroidov
Partner University:

Link to position:

Stockholm University
Using CO2 as a feedstock to produce energy resources and chemicals instead of emissions to the atmosphere would reduce our impact on global warming and dependence on fossil-based carbon sources. Copper is the only known metal that electrochemically converts CO2 to hydrocarbons, but the process has yet to be fully understood. Our study aims to develop a fundamental understanding of the reaction mechanism, which intermediates are involved in different reaction steps, and how they bind to the catalyst. We focus on different formulations of copper as an electrode. For unknown reasons, some of these may give a high selectivity for the desired product ethylene over the unwanted greenhouse gas methane. What determines this and how it can be optimized is a significant challenge for the attack. With the methods we now have available, this is within reach. This project thus has the potential to mitigate our impact on climate change and secure our access to energy in the fossil-free future.
Project title:
In-situ corrosion in complex alloys
PRISMAS Research Area:
Sustainable Technologies
Supervisor:
Assoc. Prof. Rebecka Lindblad
Partner University:

Link to position:

Uppsala University
Corrosion causes materials to degrade and economic and environmental factors therefore motivate a search for corrosion resistant materials. A specific area of interest is metallic materials found in fuel cells and electrolysers for hydrogen production, which are exposed to a harsh environment where corrosion is a risk. The understanding of the boundaries between materials and surrounding environments at the atomic scale and under electrochemical control is essential to develop new corrosion resistant materials. In this project photoelectron spectroscopy and related techniques will be used to follow corrosion at an atomic level while it is taking place.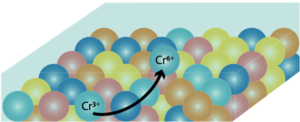 The project is a collaboration between Alleima, Swerim and Uppsala University and is linked to the HIPPIE beamline at MAX IV. The project will deliver a fundamental understanding of the corrosion process in coatings of complex alloys, which is particularly important for the design of new types of alloys with high corrosion resistance.
| | |
| --- | --- |
| Project title: | Identifying Active Sites in Electrochemical Ammonia and hydrocarbon Synthesis via In Situ APXPS and XAS |
| PRISMAS Research Area: | Sustainable Technologies |
| Supervisor: | Prof. Jiayin Yuan |
| Partner University: | Stockholm University |
Constant increase in global population requires large-scale synthesis of NH3 as a feedstock to fertilizers. Reducing N2 to NH3 in aqueous media under ambient conditions and an external voltage, i.e. electrocatalytic nitrogen reduction reaction (ENRR), has been identified as a potential solution. During ENRR, NH3 is produced by activation of N2 and using water as H2 source. Transition metal nitrides have emerged as potential catalysts for ENRR following the Mars-van-Krevelen (MvK) mechanism. But recent results suggest the surface formation of metal oxynitride, which is against previous reports. The project aims to identify key mechanistic steps during ENRR on metal nitrides by monitoring the oxidation state of metal and the potential oxygen formation. This will be achieved by using in situ ambient-pressure X-ray photoelectron spectroscopy (APXPS), X-ray absorption fine structure (XAFS) spectroscopy at MAX IV. It will be generalized to electrochemical synthesis of hydrocarbons.
ACCELERATOR SCIENCE
Project title:
Generation of ultra-short light pulses with Accelerators
PRISMAS Research Area:
Accelerator Science
Supervisor:
Dr Francesca Curbis
Partner University:

Link to position:

Lund University
Please see a detailed project description here: PhD Project overview_Curbis.pdf
The project aims to generate, develop and study future concepts in the generation of ultra-short pulses in linac based sources. A number of different techniques have been proposed involving very strong electron pulse compression, Free Electron Laser (FEL) based techniques or a combination of compression and FEL schemes. The proposed project will start by exploring the capabilities in current accelerator and FEL systems. With focus on electron beam pulse compression and how the beam properties can be retained and requirements on suitable diagnostics. From this, new concepts for even shorter pulses, 100s of attoseconds, using FEL techniques will be studied and developed.
CULTURAL AND GEOLOGICAL HERITAGE
PRISMAS does not offer projects in the area of cultural and geological heritage in the 1st Recruitment Call, but welcomes project submissions for the 2nd Recruitment Call (See Selection process for research projects)