PRISMAS is offering a portfolio of challenging, relevant, interdisciplinary research projects, related each to a PhD position, that align with the aims of the Sustainability Development Goals.
The selection of projects included relies on calls for project proposals that are open to the whole Swedish scientific community. At the beginning of the project, 27 projects had been pre-selected and included in the first Recruitment Call of Doctoral Students. 13 additional research projects will be chosen following below described selection process. Those research projects will be offered in the second Recruitment Call. Principal investigators from all Swedish universities are welcome to submit proposals and take part in PRISMAS.
Download here the onepager containing all relevant information on the call for project proposals: PRISMAS_Call for projects.pdf
Do you want to contribute to the training of the next generation of synchrotron experts?
How the research projects are selected
The projects for the second recruitment call are chosen following a four-step selection process. The principle investigators of the chosen projects will be informed accordingly and asked to hand in a letter of commitment. Please see below more details on this process and the timeline for choosing the research projects.
Submission: Please submit your proposals for research projects latest by 6th of April 2023, by filling in the template (Template for project proposal, overall length up to 5 A4 pages) and submit it to
Feasibility check: In a first step, feasibility checks of the submitted projects will be performed by the MAX IV scientific staff.
Evaluation: The feasible projects will be then in a second step evaluated by an external panel.
Selection: In a final step, the PRISMAS steering group will decide based on the evaluations on the projects to be offered to the students in the second recruitment call.
Timeline
Call for research projects: 13.03.2023 – 06.04.2023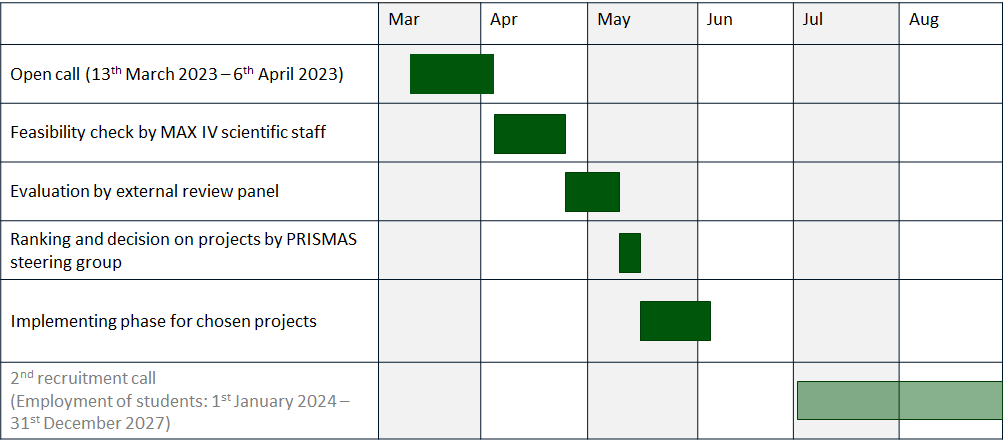 Research project proposals evaluation criteria
The external review panels evaluate the proposals based on the following criteria:
30% Scientific excellence and novelty.
30% Quality of the supervision and secondments relevance.
20% Relevance to the MAX IV strategy and selected scientific area.
20% Expected impact at the national and international levels.
The Central Selection Committee will rank the proposals and give feedback to the principal investigators. This includes an ethical issues assessment conducted by three appointed experts within the committee.
National distribution, gender equality, and topic variety
In the first call for students, 29 excellence-based research projects were chosen by the Central Selection Committee to be open for candidates. The final project selection shall reflect a national distribution that includes all participating universities, secure gender equality among the principal investigators, and ensure a wide range of research topics.
The Call for research projects will be broadly advertised.