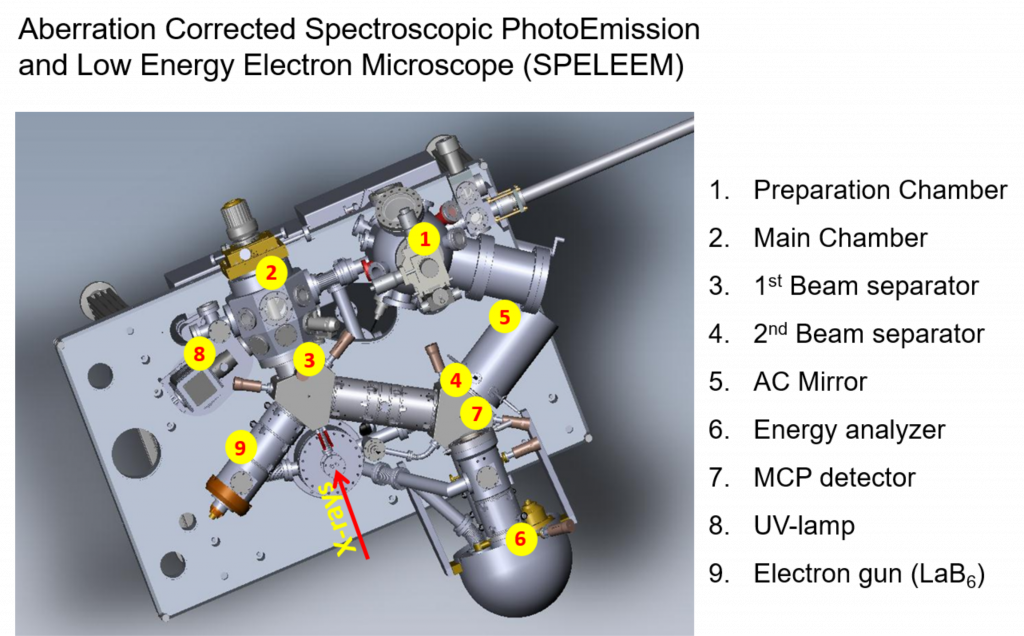 The MAXPEEM endstation is shown in the scheme above, it comprises two main chambers: the preparation chamber, dedicated to sample preparation and treatment facilities, and the main chamber, dedicated to the analysis of the sample surface.
The samples are introduced in a small fast entry chamber connected to the preparation chamber and are then transferred to the preparation or to the main chamber using a transfer arm (top right of the scheme). The main chamber hosts the aberration-corrected SPELEEM microscope (Elmitec GmbH) that consists of nine parts: the illumination optics, two beam separators, the magnetic objective, the intermediate optics, the aberration corrector, the imaging optics, the energy analyzer and the projective system.
The main characteristics of the endstation are summarised in the tables below.
Preparation chamber
Base pressure
2⋅10⁻¹⁰ mbar
Sample manipulation
4-axis manipulator with 3 translations (x,y,z) and 1 polar rotation
only z is motorized
Heating
radiative heating (up to 400 °C)
e-beam heating (up to 1500 °C)

the temperature is measured with a C-type thermocouple (W5%Re/W26%Re) spot-welded on the Mo ring under the sample, an infrared pyrometer is also available
Characterization
RGA (MKS, Microvision 2)
LEED (Specs, ErLEED 3000D)
Sputter gun
available (Varian, 981-2043)
Metal evaporator
available (Focus GmbH, EFM 3)
Dosing
two leak valves are mounted on CF40 flanges, one of the leak valves is connected to the gas line composed by two inlets and a dedicated pumping system

please, contact the beamline staff in advance if gas usage is planned
Available ports
there are additional ports available for user supplied sources:

-four CF40
-two CF63
-one CF100
Other
it is possible to load one sample per time in the fast entry chamber that is directly connected to the preparation chamber

possibility to attach vacuum suitcase
Main chamber
Base pressure
4⋅10⁻¹¹ mbar
Sample manipulation
3-axis manipulator with 3 translations (x,y,z) plus 1 tilt adjustment (±2°)

travel range for x and y: ±5mm
Heating
radiative heating (up to 400 °C)
e-beam heating (up to 1500 °C)

the temperature is measured with a C-type thermocouple (W5%Re/W26%Re) spot-welded on the Mo ring under the sample, an infrared pyrometer is also available
Cooling
LN2
UV lightsource
LOT-QuantumDesign GmbH
Hg arc lamp
Sample storage
capacity: 5 samples
Available ports
there are additional ports (CF40) available for user supplied sources