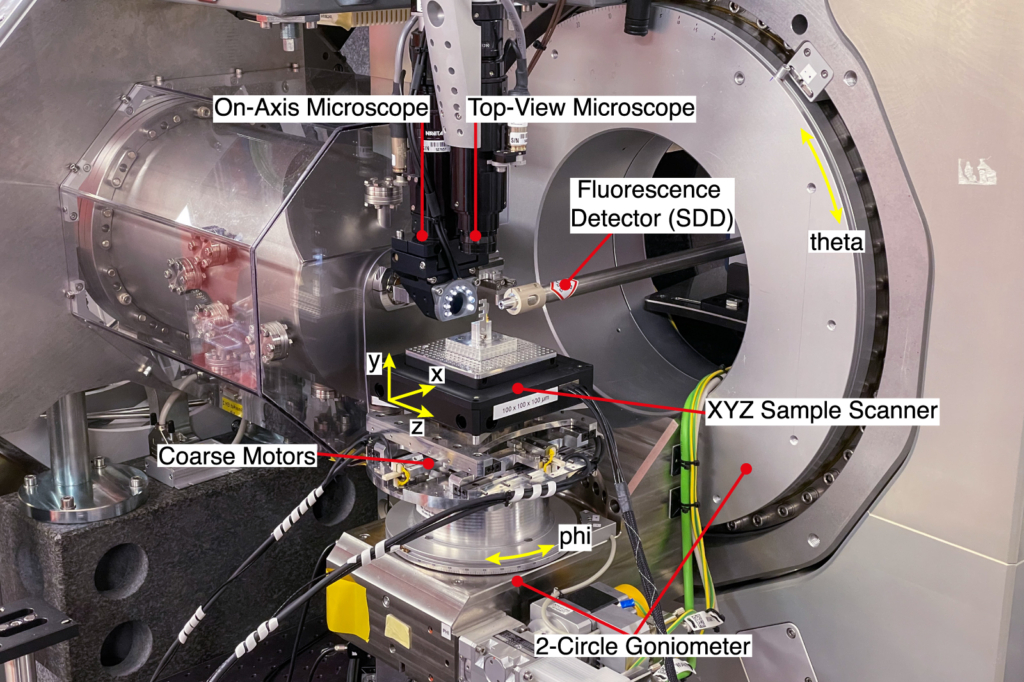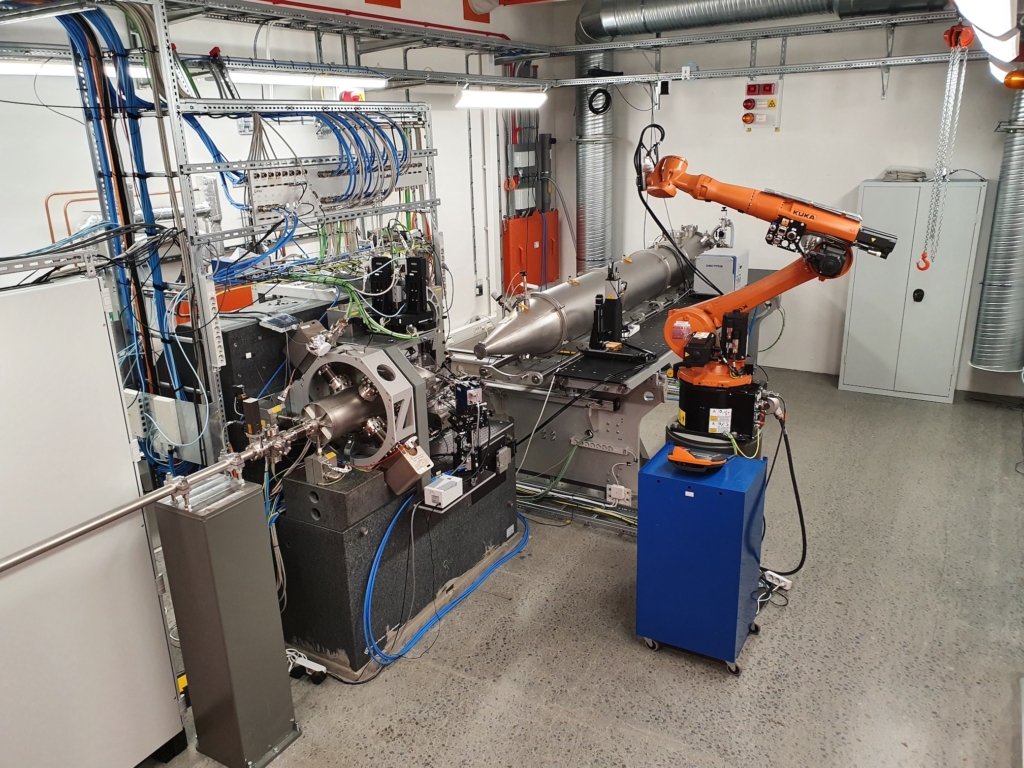 Diffraction station parameters
Photon energy
5-28 keV
Routine operation 8-15 keV
Focal spot size
50 – 200 nm
Measured: 98 nm at 8 keV, 62 nm at 14 keV
Diffraction limited spot, the spot size is energy dependent. See doi.org/10.1364/OE.386068
Focused beam divergence
Approximately 1.2 mrad (both vertical and horizontal)
energy independent
Coherent Flux
Fully coherent beam: 6×1010 at 8keV, 3×1010 at 10keV, 8×109 at 14keV
The flux at the sample position depends on energy, see Beamline Optics and doi.org/10.1364/OE.386068
2-circle Goniometer
Theta: stroke [-5, 90] deg, resolution: 10-4 deg
Phi: stroke [-180, 180] deg, resolution: 10-4 deg
Theta is horizontal and perpendicular to the X-ray beam. Phi is perpendicular to Theta and vertical for Theta=0.
Note that the goniometer does not provide tomographic capabilities.
Coarse sample scanner (XYZ)
Stroke: 20 mm, Resolution: 100 nm
This is an in-house development
Fine sample scanner (XYZ)
Option 1 (standard): 100 μm stroke in all directions

Option 2: 200 μm stroke in each horizontal direction, 100 μm vertical stroke
NPXY100Z100-135
This option provides the stiffest frame and the highest resolution

NPXY200Z100-271
Accessible space
Approx. 50 mm working space upstream of the X-ray focus.
Always contact the beamline staff to discuss non-standard sample holders or environments.
Continuous scanning
A single fine axis (X, Y, or Z) can be scanned continuously for fast mapping in 2D.
Sample Microscopes
On Axis and Top Microscopes
Maximum resolution: 5 μm
Maximum Field of View: 0.3–4 mm
X-Ray Fluorescence
RaySpec single-element SDD, coupled with an XSPRESS3 pulse processor
In-line Detectors
Eiger2 X 1M in vacuum, 1028 x 1062 pixels2, 75 μm pixel size

Pilatus3 X 1M, 981 x 1043 pixels2, 172 μm pixel size, 1000 µm thick Si sensor

High-resolution Crytur camera, 2048 x 2048 pixels2, 600 nm effective pixel size
Detector distance given by flight tube, approx 1-3.8 m



Detector distance minimum 160 mm



Flexible placement downstream of the sample
Diffraction detector
Eiger2 X 500K, 1028 x 512 pixels2, 75 μm pixel size

Optional:
Merlin Si Quad, 512 x 512 pixels2, 55 μm pixel size
Mounted on the detector robot arm.



Legacy detector, please contact beamline staff.
Detector robot
Positions the detector in a spherical coordinate system with polar and azimuthal angles approx. [-5, 90] degrees, and radius approx. [200, 1000] mm.
Flight tubes
Forward vacuum tube housing the Eiger 3.5 m from the focus (modular in 1 m segments up to 4.5 m). Entry window 1.0 um Si3N4.

Inflatable He tube for the Bragg geometry, cut to length. Entry and exit windows 6 um mylar.
Other integrated equipment
Keysight B2985A electrometer
ALBA electrometers
PandABox acquisition card for digital and analog input
SRS EC301 potentiostat
Alemnis Nanoindenter
Energy scanning
Manual energy changes are possible on a timescale of minutes. Image stacks can be collected as functions of energy, but XANES and EXAFS measurements are not possible.
Off-line microscopy
Two optical microscopes are available for off-line sample inspection. One is a high resolution microscope (Olympus BX53M), the other a long distance stereo microscope (Olympus SZX16).
A Hitachi SU1000 electron microscope is also available at the beamline.