To login or create a new account in DUO go to: https://duo.maxiv.lu.se/duo/
---
Already have a DUO account?
If you already have an active DUO account, proceed to login by entering your credentials.

---
Forgot your password and/or email?
No worries, we'll help you sort this out!
If you know what email you registered with
Click the "Reset your DUO Password" link and fill in the email.
If you forgot which email the account is registered to or lost access to that email
Contact MAX IV User Office for further assistance.
---
Don't have a DUO account
If you don't have a DUO account, click the "Create a new DUO Account" button to initiate account setup.
Step 1
This will redirect you to a page where you are asked to fill in the initial necessary information to make an account request.
Please note: A DUO account is not instantly created, it first needs to be reviewed by MAX IV staff. We therefore recommend you to take this into consideration when sending in your request.
Requested information
First name
Last name
Email
Affiliation & Department
Step 2
Review of account request is performed by MAX IV staff.
Please note: This step might take a while, depending on e.g. amount of requests, national holidays etc.
Step 3
Once the review is done you will receive an email informing you of the result:
If rejected, you will be sent feedback as to why your request was rejected.
If accepted, you will receive a one time link that is active for 24h. Follow this link to finalize account creation. If you do not use this link within the 24h period you will need to start the process over by sending in a new account request.
Step 4
Finalize account creation by filling in the below information in DUO:
Please note: We kindly ask that you register your DUO account with your institute/affiliation email. And that you pay attention when filling in your phone number, as this will be used for e.g. VPN connection.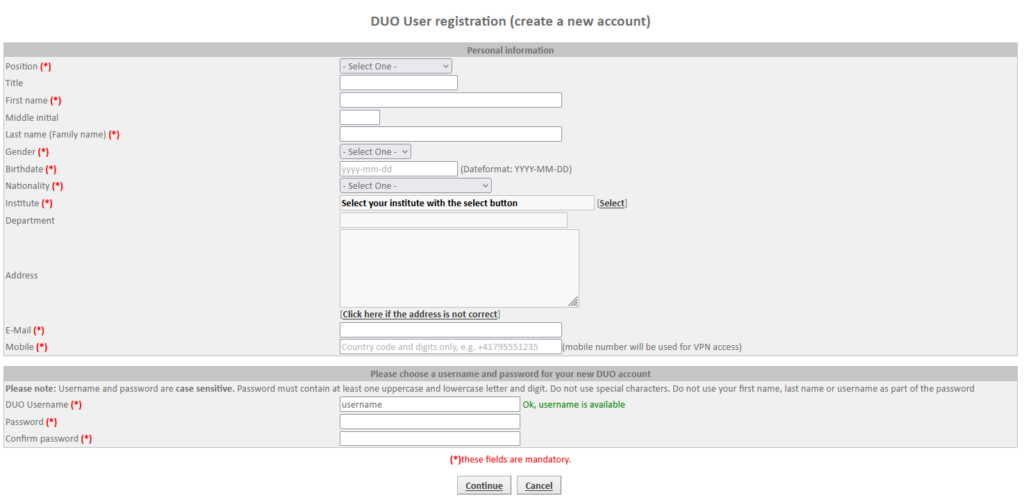 If for you are unable to create an account request, please fill in the following file and send it to MAX IV User Office: DUO Registration request form.pdf