For a user to be granted access to the MAX IV facility, they must first study the safety material and pass a safety test. The material to study is also available on the Safety pages, see link to the right. Or follow this link and download the Safety test material for users.
After logging in to DUO you will find a link in the left side menu called "Safety Test",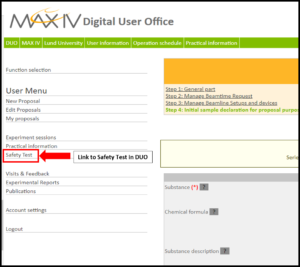 Here you can:
Fill in the Safety for users test
See if you already have a valid Safety Test.
The result is valid one year from completion, and the expiration date is written out in the system and on your certificate.
Print your certificate
Please note:
Make sure that you actually passed the Safety Test by checking the dates in your PDF before printing it.
You must always bring a printed copy of your Safety Quiz certificate to the reception to be granted access to MAX IV.
This is how it looks in DUO if your Safety Test has expired: