The online and offline HPCs can be accessed via the ThinLinc client, a commercial product developed by Cendio. Clients for Linux, Windows or Mac are available for download. This page gives a brief description of how to install and run the ThinLinc desktop to connect to the MAX IV offline cluster assuming you are offsite and connecting with the white VPN.
At certain beamlines it may be possible to access the online cluster via ThinLinc having made a blue VPN connection to that beamline, but these instructions would be found in the documentation for that particular beamline.
Installation and launching of the Linux and Windows clients is normally straightforward. When opening the client for the first time on Mac OSX 10.9 and later, you will need to locate the client in finder and hold the [ctrl]-key while clicking on it, then choose the "Open" option. See also Cendio's documentation for more detailed information.
Open a VPN connection to the MAX IV network (vpn-white.maxiv.lu.se).

Use your DUO account user name and password
Select DUO Users as the name of the realm
Enter the one time password

Open the Thinlinc client.

In the login window, enter offline-fe1.maxiv.lu.se in the server field. That is the name of the offline HPC front end.
Enter the login credentials for your DUO account and click Connect.
The remote desktop takes a little while to initialize, specially the first time you connect.
Once the desktop is open, you can use the F8 key or fn+F8 to be able to resize the window.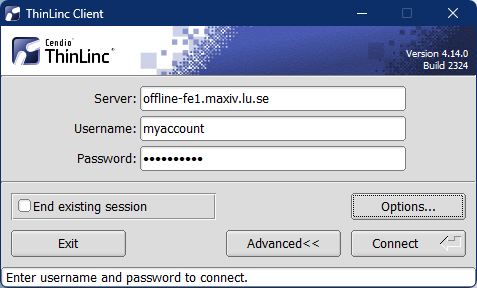 Most computing software is available in modules which needs to be loaded before use. Please follow the directions from your beamline scientists regarding loading the correct software packages. More information about using the batch cluster can be found in the HPC page.
Please bear in mind that this is a shared resource. Do not run resource intensive jobs on the front end. Use the compute nodes instead, either with the sbatch command or in interactive mode:

open a terminal
Type: interactive -n 'n-of-CPUs' -t 'time'. For example, interactive -n 10 -t 01:00:00 will give you 10 CPUs for one hour

Logout after using your session (use the logout function in the System menu) to release resources for others to use.
Knowns issues
Sometimes connection to the Thinlinc server fails with a "Couldn't establish SSH tunnel" error. This is, in most cases, an intermittent problem. Simply try to log in again. If it fails consistently, you may have an already running session that has become corrupted. Try clicking the End existing session checkbox to start a new session afresh.