MAX IV Laboratory, together with Science for Life Laboratory (SciLifeLab) and the European Spallation Source ERIC (ESS), form the joint Science Hub InfraLife, Infra Access for Life Science Sweden. Recently launched, InfraLife supports Sweden's national investments in large-scale research infrastructure through dynamic facilitation and access to cutting-edge technology, data science, and active industry-enabling collaboration, outreach, and education initiatives. In the longer term, InfraLife aims to stimulate larger technology-, data- and challenge-driven cross-sectorial collaborations.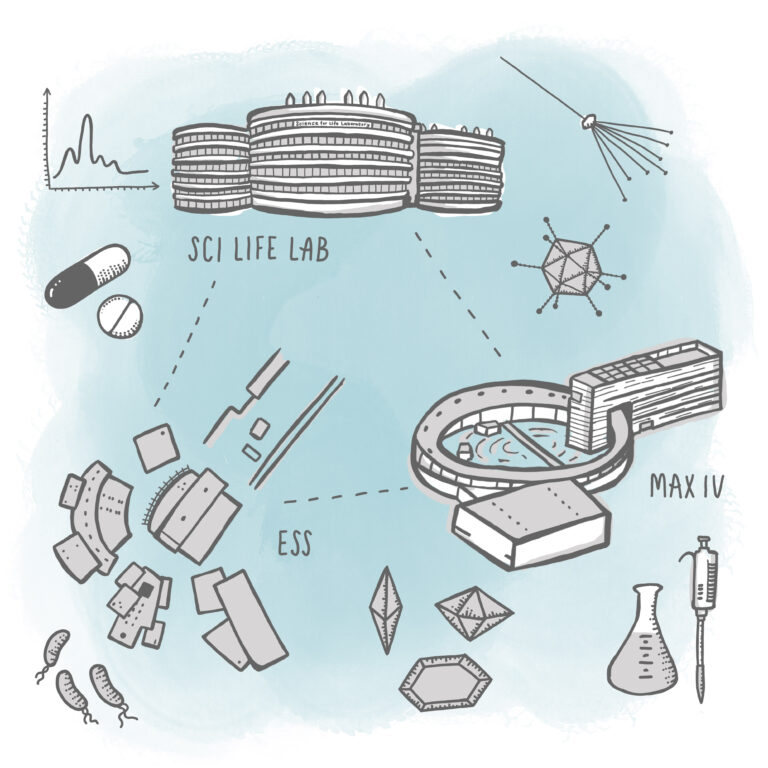 "It is very exciting that we now enter a closer collaboration with both SciLifeLab and ESS to explore synergies, learn from each other and start sharing best practices. Through the partnership, we will identify the Swedish life science communities and environments that will benefit from MAX IV and vice versa. We bring a lot of experience working with industry and industry-academic partnerships, but this collaboration provides us with a new opportunity to reach novel user groups especially within the health care sector," said Selma Maric, Industrial Relations Officer responsible for the Life Science and Soft Matter area at MAX IV Laboratory.
The InfraLife Hub is currently hiring two Industrial Relations Officers. The positions are based at the SciLifeLab Solna Campus and MAX IV Laboratory.
Five new beamlines are scheduled to come online for User Operation at MAX IV in 2021-22, which will enable several techniques relevant for the life sciences, including spectroscopic methods (SoftiMAX), scattering and diffraction (CoSAXS, ForMAX, DanMAX and MicroMAX) and full field imaging (DanMAX and ForMAX). This range of instruments provides unparalleled spatial and temporal resolution and will equip life scientists to study structural details in various types of biological matter that span from a few tenths of a nanometre to micrometres in size.
"The new suite of instruments will empower unprecedented research opportunities for the life science field that go beyond just structural biology," explained Maric. "With InfraLife, we will ensure that awareness and access to these new technologies, and the recent leap in methodology, will reach the broader research community. Additionally, it will open opportunities to involve new groups in the further development of MAX IV and advance our capabilities to tackle new and emerging life science related questions."
The InfraLife Hub is currently hiring two Industrial Relations Officers. The positions are based at the SciLifeLab Solna Campus in Stockholm and MAX IV Laboratory in Lund, respectively. At the MAX IV location, the new colleague will work with development, coordination and project management of the InfraLife project, InfraLife stakeholders and funding initiatives, among other duties.
The new Science Hub opens with goals designed to inspire cross-sectorial collaborations. Initial activities will include trainings, workshops, and work for funding coordination and research programmes around several Life Science Grand Challenges. This work begins with a focus on the globally pressing issue of antimicrobial resistance—an initiative set to launch in spring 2021.
Contact Industrial Relations Office for more information.