Sustainability measures, when applied intelligently, bolster societal productivity and deliver tangible improvements to the natural environment. Some argue that world economies cannot survive the impacts of business as usual in terms of pollution and high energy demands. In Lund, sustainability in work and life is a consistent aim, and in the most constructive way with COOL DH—the build project for the world's largest low temperature district heating grid—nearing completion.
The city of Lund in southern Sweden has relied on conventional high-temperature district heating for more than 60 years. The latest upgrade to this network, a low-temperature district heating (LTDH) system will supply heat with increased efficiency and cost savings to residences and businesses. MAX IV Laboratory and the European Spallation Source Source (ESS) will play an instrumental role to deliver this reduced temperature heat to Brunnshög, the new city district currently being built in Lund, with accommodations for 40,000 people upon completion in 2050.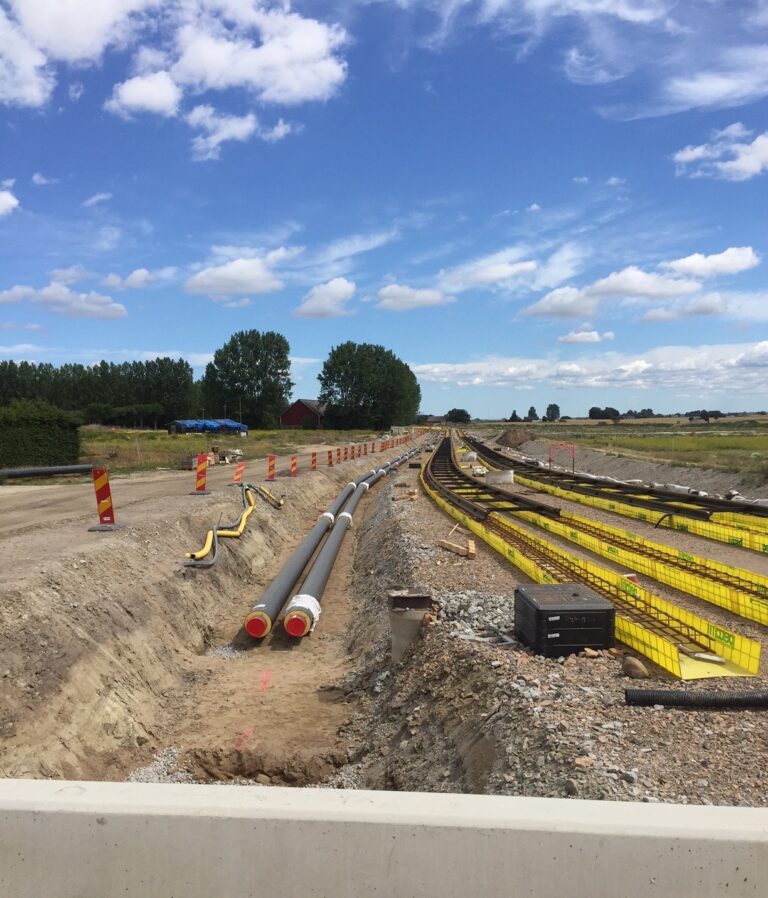 "A big goal for us is developing the district heating business. We constantly look for better ways with lower environmental impact to produce heat, and surplus heat is definitely such a source for use," said Communicator Petter Duvander at the energy company, Kraftringen. "The idea for COOL DH came up when the conceptual plans for MAX IV and ESS first started circulating. The low-temperature part of that was not our idea, however. [Low-temperature heat] has been called 4th generation district heating around the world."
Kraftringen currently serves two customers with surplus heat from MAX IV; Mollegården the MAX IV-ESS exhibition center, and the new tram depot in northern Brunnshög.
Initiated in October 2017, COOL DH is a 4-year project funded by the EU Research and Innovation programme, Horizon 2020. The project is ongoing in Brunnshög district in Lund, Sweden, and Østerby district in Høje-Taastrup, Denmark. The Danish city today utilizes a conventional district heating network, which will be converted to an LTDH system.
Mutual benefits delivered
Cooling for heating. This is the basic process from which MAX IV receives cooling for facility operations, beamlines and equipment in exchange for the heat output provided to Lund's LTDH grid. This heat, delivered to residents, will have a regulated temperature of 65 degrees Celsius, a level safe against the growth of legionella bacteria.
"At MAX IV a number of systems require water cooling to extract the heat generated as a by-product of the operation of the accelerators and beamlines," said MAX IV Accelerator Director Pedro Fernandes Tavares. "An important fraction of that heat is generated by the radiofrequency power systems which provide the energy boost to the electron beam in a 250-meter long linear accelerator. The water used in cooling those units is then reused for district heating."
Nationwide in Sweden, the majority of homes are heated via district heating, so installment of a low-temperature district heating network could be viewed as a natural next step. With two large-scale research facilities in close proximity to Brunnshög perhaps even more so.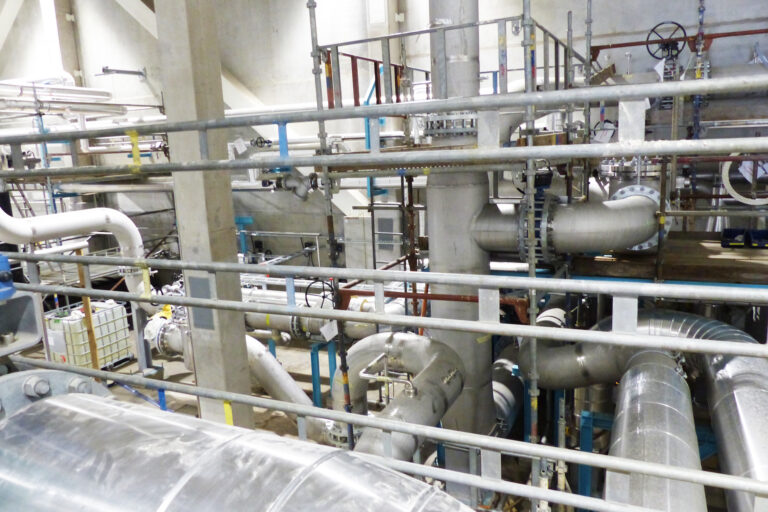 The LTDH system began operating at MAX IV Laboratory in March 2020. Heated water at three different temperatures from the synchrotron is sent to the Energy Central building located onsite, where it is exchanged for cooling water. In addition, the building acts as a hub, connecting to the original, conventional district heating grid in Lund. Warmer water from MAX IV continues to be fed to the larger grid as well. This connection is important, for example, for MAX IV's bi-annual system shutdown for scheduled maintenance. Heat delivery to Brunnshög customers during this period must be maintained.
"The difference [in heat delivery] is going to be zero, thankfully. We've considered the question," said Duvander. "With the Energy Central also supplying the high-temperature DH grid, we can reverse the process as well so we can take heat from the big grid and transform it to the local temperature inside the Energy Central. Customers are not going to feel a difference."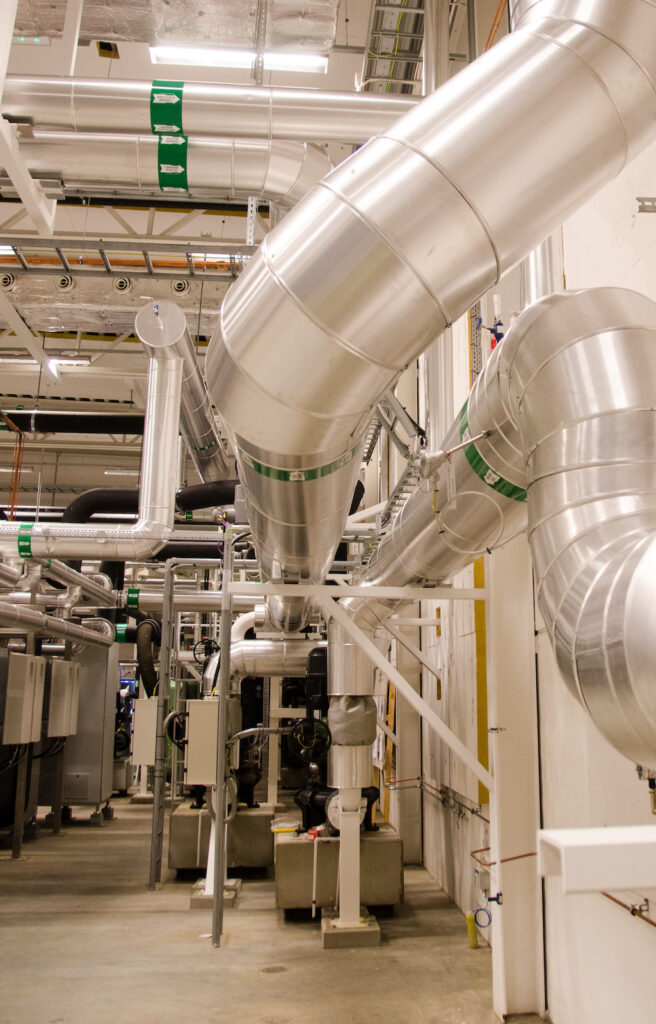 Near neighbor, ESS, which will be the world's most powerful neutron source upon completion, will also deliver surplus heat to the district heating grid. The heat generated when operating the ESS facility will be recovered by the central processing system (CPS), managed by ESS contractor E.ON.
The process recovers the excess heat from three cooling circuits with different temperature levels, enabling ESS to deliver heat at both low and high temperatures to the local district heating system.
ESS has developed its concept for the sustainable energy management system in collaboration with E.ON and Kraftringen.
"We are proud to be among the first large-scale research facilities to recycle the generated waste heat," said Therése Welander, ESS Head of Initial Operations. "The installation work is progressing according to plan so by this time next year the heat recovery system will be commissioned."
Innovation in grid design
The piping system for COOL DH is designed and supplied by Danish firm LOGSTOR as part of an internal research initiative.
The layout for the LTDH grid piping resembles a tree with branches. The 'trunk' consists of standard steel piping, whereas the branch piping connected to residences is composed of a new, polyethylene raised temperature resin (PE-RT plastic). The plastic piping system features heat-insulating foam and temperature alarms.
The new pipes are cost-efficient, according to LOGSTOR, due to their easy ground installation and smaller diameter, which requires lower water pressure to function. Heat losses are also significantly less from the LTDH grid than a conventional one, roughly 3-4% as shown in test data.
Scheduled for completion in autumn 2021, COOL DH is more than another green initiative realised in Lund. The project delivers a new LTDH grid—the latest extension of an energy network designed with sustainability in mind.